Solar So Simple It's Just a Click Away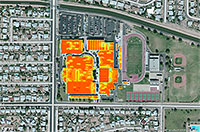 Enlarge image
SunShot Incubator 6 awardee Sun Number converts complex aerial data into an easy-to-understand solar suitability score ranging from 1 to 100, with 100 being the ideal rooftop score for solar. Photo courtesy of Sun Number
Learn about SunShot Initiative projects that are creating smarter, streamlined, and simplified solutions to make solar more cost-competitive with other forms of electricity.
New Methodology Helps Utilities Evaluate Impacts of Distributed PV
A report recently released by the Energy Department's Sandia National Laboratories, the Electric Power Research Institute, and the Georgia Institute of Technology offers a new methodology to help utilities better evaluate how photovoltaic (PV) systems affect distribution system operations. Learn more at the High Penetration Solar Portal.
Don't Miss Upcoming SunShot-Sponsored Events
The SunShot Initiative is sponsoring several upcoming events, including the Utility Variable-Generation Integration Group (UVIG) Distributed Wind/Solar Interconnection Workshop on May 21–22, the Solar ABCs Stakeholder Meeting on July 11, and several Solar Outreach Partnership workshops throughout the spring and summer. For a full list of upcoming events, check the SunShot and High Penetration Solar Portal events pages.
Fast Fact: Portable Solar for Soldiers
Learn how the Naval Research Laboratory's high-power flexible solar blankets are giving soldiers a faster, lighter way to carry power.