Solar Goes Sky High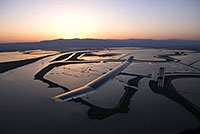 Enlarge image
With a wingspan equal to that of a Boeing 747, the Solar Impulse is crossing the United States using roughly 12,000 solar photovoltaic cells to power its four electric engines. But this kind of innovation isn't limited to the sky—learn how the Energy Department's SunShot Initiative and its partners are pushing the boundaries of solar science here on land.
CSP: ELEMENTS Concept Papers Due May 23
Mandatory concept papers addressing thermochemical energy storage research and development for concentrating solar power (CSP) must be submitted for the CSP: Efficiently Leveraging Equilibrium Mechanisms for Engineering New Thermochemical Storage (CSP: ELEMENTS) funding opportunity by Thursday, May 23, at 5 p.m. EDT.
SunShot Experts Offer Solar Solutions
Need information on solar energy technologies and policies? Submit your questions to the interactive Ask an Expert feature on the SunShot Solar Energy Resource Center. Recently, our experts advised users on obtaining utility datasets for solar and locating experienced solar installers. In addition, inquiries pertaining to solar grid integration can be submitted to the SunShot High Penetration Solar Portal.
Fast Fact: New Look for the SunShot Homepage
Check out the updated SunShot homepage, which now features project highlights and multimedia elements in an easy-to-navigate format.