T-Minus Two Weeks to Solar Decathlon 2013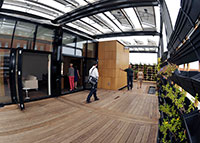 Enlarge image
In two weeks, collegiate teams from across the globe will converge at Orange County Great Park in Irvine, California, for the U.S. Department of Energy Solar Decathlon 2013. Learn more about which schools are bringing solar-powered houses to this year's competition, how to volunteer at the event, and where to watch the Google+ Hangout that took place on September 18.
Energy Secretary Dedicates New Clean Energy Research Center at NREL
On September 11, Energy Secretary Ernest Moniz dedicated the Energy Systems Integration Facility (ESIF) at the National Renewable Energy Laboratory in Golden, Colorado, as the nation's first major research facility focused on clean energy grid integration and large-scale deployment. Partners—including SunShot awardee Advanced Energy Industries—will work at the ESIF to overcome the challenges of integrating clean energy and technologies into the nation's energy infrastructure.
Report Identifies Large-Scale Solar Impacts, Mitigation Measures
Argonne National Laboratory recently published a new report that identifies potential environmental, cultural, and socioeconomic impacts associated with large-scale solar energy development, as well as potential mitigation measures.
Fast Fact: SunShot Leads SolarPACES 2013 Conference Under Way
The SunShot concentrating solar power (CSP) team led the organization of the IEA SolarPACES 2013 conference, which is taking place this week in Las Vegas. The event features emerging CSP technologies, such as cutting-edge receivers, collectors, and energy storage solutions that are bringing CSP closer to cost competitiveness.